The Service Getting Cross-Functional relationship can initiate a limited number of requests. Defining this authority, up-front, removes ambiguity and clarifies accountability.
"Cheryl, we're meeting today about the XYZ Project. As you know, Phil is the Project Leader and needs accounting support to track the expense budget on this project. Christine is your manager and we hold her accountable for the work you produce. Christine selected you because of your great work on the Phoenix Project last month. We need that same kind of work for the XYZ Project."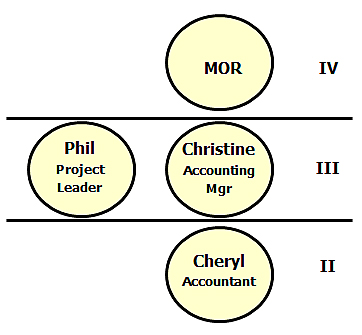 "Phil, as you work through this project, you will need expense budget tracking. Christine's accounting department has resources that can support your project needs. As the Project Leader, you will decide exactly what support you need from Christine's department, and Cheryl has been specifically assigned to your project. So, decide what you need and tell Cheryl.
"Cheryl, you have other task assignments, as well, so when Phil tells you he needs something, make sure he gives you a specific deadline or time-frame, so you can work in the priority. If you have a scheduling conflict you cannot resolve, Christine, your Manager, can help you make the appropriate decision.
"Christine, the XYZ Project is important to us, so if Phil is not getting the support he needs from your department, it is up to you to figure out how to get it done. Cheryl may need more help, may have to work overtime. You know your resources and your own budgets, so we are counting on you to give Phil that support.
"And, Phil, if Cheryl is not giving the support needed, I expect you to work with Christine to make sure the Project gets what it needs."
Specifically, Jaques defined the Service Getting Cross-Functional relationship –
Phil has the authority to request a service (ask Cheryl to do something)
If Phil's request is not met (falls short, misses deadline, requires more support), he has the authority to talk to Cheryl's manager.
Cheryl's manager, Christine, is ultimately accountable for Cheryl's work output.
___
Our next online program – Hiring Talent is scheduled to kick off August 1, 2011. If you would like to find out more about the program or pre-register, follow this link.