This is next in the series describing Cross-Functional relationships. This is where colleagues work side by side (often on a project basis), neither is the manager of the other. They both may have the same manager or even different managers.
Monitoring
Coordinative
Prescribe
Collateral
Monitoring Relationship
The Monitoring Relationship is similar to the Audit relationship, except we remove two authorities. The Auditor can delay or stop a project, the Monitor can delay, but cannot stop a project. If there is disagreement, the Monitor can only report to the Manager.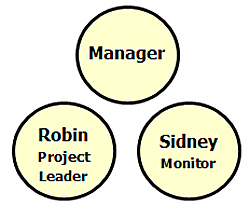 "Robin, we are finally going to start the Brickell Ave Project. As the Project Leader, you know there are some specific guidelines specified by the client that we have to follow in their design. I have assigned Sidney to Monitor those guidelines as an extra pair of eyes for you. Please use Sidney in that capacity.
"Sidney, as the Monitor on this project, it is your responsibility to examine the work as it is being completed to make sure the design guidelines from the client are being followed. If you see something that needs attention, Robin needs to know immediately. You have the authority to delay the work in that vicinity while you are talking to Robin, but Robin makes the decision on whether to proceed or not. If you believe that Robin has made a mistake and you are not able to convince her, Robin's decision sticks. In that case, I need to know, so I expect an email or a phone call, but Robin's decision sticks in the field until Robin and I can discuss the situation."
The Monitor can delay, but cannot stop a project.
___
Our next online program – Hiring Talent is scheduled to kick off August 1, 2011. If you would like to find out more about the program or pre-register, follow this link.